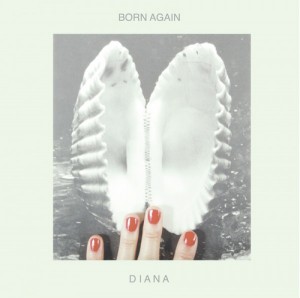 Artist: DIANA
Title: BORN AGAIN
Label: FOREST FAMILY RECORDS
Catalog#: FFR011
Format: 12"(輸入アナログ盤)
※500枚限定
Release Date: 2013/1/21予定
Price: 1,386yen(税込)/1,320yen(税抜)
ご購入はこちらから <<< BUY NOW!

音楽大学で出会ったという、Detroyerのサックス奏者、Joseph Shabasontと、Kieran Adamsを中心とした、モントリオールの注目のポップ・グループ、DIANAのデビュー・シングル、「Born Again』がForest Familyからリリース!
80'sへのオマージュが漂うノスタルジックなシンセやギターの音色に女性ヴォーカリスト、Carmen Elleによるアーバンでソウルフルなヴォーカルが融合し、Roxy Music ミーツ Sadeとも形容できるポップ・キラー・チューンを生成!今年のインディ・シーンの台風の目になりそうな注目のニュー・カマーです!さらにはこの12インチにはカナディアン・ポップ・エクスペリメンタリスト、Doldrumsのリミックスを収録!500枚限定ですのでお早めに!
TRACKLISTING:
SIDE A:
"BORN AGAIN"
SIDE B:
"BORN AGAIN (DOLDRUMS REMIX)"
12" from Montreal pop group, DIANA. The A-side is the breezy "Born Again," a track that has already accumulated over 100k plays on Soundcloud. The B-side is a disjointed remix from fellow Canadian pop experimentalist Doldrums. The 12" will be available physically and digitally at select international retailers on 1/21/13. DIANA is the musical partnership of Joseph Shabason (Destroyer) and Kieran Adams, brought together in an effort to satisfy an urge to create deft arrangements using their trained backgrounds (they met studying music in university) and set them against woozy synth driven soul pop backdrops. Vocalist Carmen Elle's addition, with her lush and thoughtful interpretations, took things to the next level. Their sound has all the allure of the Roxy Music and Sade, but their homage to the 80s begins and ends there. The past 30 years have pushed the boundaries in pop music and DIANA have been raised on this creative surge. Their new self-titled album, recorded at Boombox Studio with Roger Leavens, is set for release in 2013. It's not about sounding like New Order, it's about being the new order.
"Born Again' skitters with lo-fi drama while simultaneously delivering a crisp neon 80s vibe that would fit perfectly in a slow motion montage of lovers driving down the 10W at sunset in an imaginary John Hughes/Michael Mann movie." – KCRW
"Toronto band DIANA does some light, intergalactic disco pop on "Born Again." The songs splits the difference between headphone candy, psychedelic waves and breezy dancefloor-ready tact." – RCRD LBL