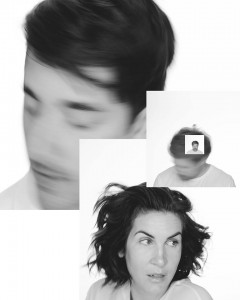 2005年にStephen RamsayとCatherine McCandlessのデュオでヴァンクーヴァーにて結成。その後幾多のメンバー・チェンジを経て、現在はMatthew Shapiroを加えたトリオ編成にて、モントリオールを拠点に活動している。2007年に名門Arts & Craftsから『Young Galaxy』でデビュー。Slowdive、Galaxie 500、Luna、Pink Floyd、Spiritualizedなどと比較され注目を集める。その後Paper Bagへと移籍し、『Invisible Republic』(2009)、『Shapeshifting』(2011)、『Ultramarine』(2013)の3枚のアルバムをリリース。本作『Falsework』は通算5作目となる。インディ・ポップ~ロックからエレクトロ~シンセ・ポップへと進化しているサウンドは幅広いリスナーに受け入れられており、また、これまでにArcade Fire、Peter、Bjorn and John、Stars、Death Cab For Cutieなどのとライヴで共演を果たしている。
Montreal's Young Galaxy will release their new album Falsework world-wide on Paper Bag Records on October 30th.  Falsework is the follow-up to the Polaris Music Prize short-listed Ultramarine and their third album produced by Dan Lissvik (Studio, Atelje).
The winter of 2014/2015 took Young Galaxy from their studio in Montreal to Gothenburg and back.  The band's brilliant new full length Falsework completes the sound they have been mining on their past two albums Shapeshifting (2011) and Ultramarine (2013) with producer Dan Lissvik. The album is undeniably synth pop without the simplicity and was informed and inspired by 80's electro, acid house and r&b, music that was well ahead of its time.  Falsework was made using machines from the past to sound like music from the future.