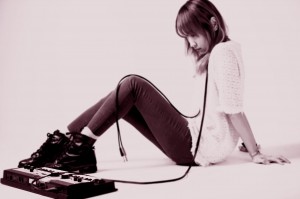 韓国はソウルを拠点に活動している若き女性エレクトロニック・ドリームポップ・トラックメイカー。父の影響で幼少期からピアノを習い、ベースなど 様々な楽器を手にしつつ過ごして行き、大学で電子音楽を専攻してコンピューターを使って音楽を作り始める。キャリアこそ長くは無いが、そのトラッ クからは高い将来性とセンスを感じさせる期待のアーティストだ。
majored in electronic music, YUKARI takes all the responsibility of her music as a composer, producer, singer by her lonesome. she has made her debut as an electronic musician late last year and she produces tranquil and mellow sounds with her laptop, synthesizers, microphone and more electronics.
전자음악을 전공한 Yukari(유카리)는 작곡/보컬/연주/믹싱을 담당하며 2012년 12월 셀프프로듀싱한 앨범 'Echo' 를 발매하였다. 인디팝, 일렉트로팝 장르의 음악을 만들고, 신디사이져, 이펙터, 샘플러등을 이용하여 공연때마다 조금씩 다른 라이브 퍼포먼스를 시도하고 있다.