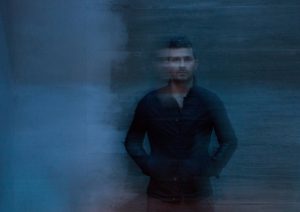 1999年にアメリカのニューオリンズで高校時代の友人を通じて知り合った、Charles CooperとJoshua Eustisにより結成。当時は2人はそれぞれ別々のバンドに在籍しており、Charlesがパンク、Joshuaがインダストリアル系の音楽を演奏していた。アルバムをリリースする前に、Nine Inch Nailsの『The Fragile』のリミックス盤である『Things Falling Apart』に参加したことで話題となった。その後シカゴのHefty Recordsと契約。彼らもシカゴに拠点を移し、2001年にファースト・アルバム『Fahrenheit Fair Enough』をリリース。翌2002年にはL'altraのLindsay Andersonをゲスト・ヴォーカルに迎え、EP『Immediate Action #8』をリリース。2004年には引き続きLindsay、そしてBuild An ArkのDamon Aaronをフィーチャーし、ヴォーカル主体に構成したセカンド・アルバム『Map Of What Is Effortless』を発表。2007年にはリミックスをコンパイルした『Remixes Compiled』、そして2009年にEllen Allien率いるベルリンのDJ/プロデューサー、Ellen Allien主宰のレーベル、BpitchControlから3作目『Immolate Yourself』を1/20にリリースしたが、1/27にMyspace上でCharles Cooperが1/22に亡くなったことを明かした。その後1人となったJoshuaはNine Inch Nailsのツアー・メンパーやソロ・プロジェクト、Sons of Magdaleneなどで活動していたが、2016年にTelefon Telefon Avivとして再始動。同年のファースト・アルバムがリリース15周年を記念してアーカイヴ音源を追加収録し、Ghostly International / PLANCHAからリイシュー。そして2017年5月に実に8年ぶりとなる新曲を披露し、セカンド・アルバムも蔵出しの坂本龍一リミックス音源を追加し再発された。
The late 1990s was a fertile time in the American electronic underground. A growing body of artists, spread around the nation, were engaging in the latest round of a decades-long transatlantic musical conversation. At the convergence of hip-hop, electronic, and soul music, these artists sought to carve out their own lane. In September 2001, New Orleans' Telefon Tel Aviv, high school friends Joshua Eustis and the late Charles Cooper, joined the conversation with their debut album, Fahrenheit Fair Enough, released by Hefty Records. A labour of love, Fahrenheit was an attempt by the pair "to contribute something meaningful" Eustis says today, "something definitely American, and kinda southern too." On the fifteenth anniversary of its release, Ghostly International is reissuing Fahrenheit Fair Enough with a vinyl edition and bonus digital material.
Living in New Orleans in the late 1990s, Eustis and Cooper were in the thrall of two musical orbits: black America – New Orleans' bounce, Detroit's techno, Chicago's house – and British electronica – Autechre, Aphex Twin, Jega. Recorded over the course of a year in Eustis' childhood bedroom in the Riverbend neighborhood of New Orleans, Fahrenheit mapped out a potential for American electronic music in a time of hope. The music features delicate Rhodes and guitar instrumentation wrapped in a southern bounce shell, smothered in r&b, and cut up by digital rhythm programming. The tracks were meant to be "constantly, evolving sculptures." Fascinated
by IDM, the pair sought to inject "some swagger into it, loosen it up a little but also make it hyper romantic."
Eustis and Cooper had imagined making a "hard club record," but instead Fahrenheit came to be seen as a delicate slice of electronica by fans and critics who misconstrued its stylistics roots. This was, perhaps, hardly surprising. Telefon Tel Aviv arrived at a time when there was no roadmap for an American electronic music scene comparable to what the UK had produced in the 1990s. They were the latest artists to find themselves in a strange middle ground between hip-hop and electronic music that had yet to be understood.
Following the loss of Cooper in 2009, Eustis spent years unwilling to revive the Telefon Tel Aviv project, doubting his ability to do it justice. But time is a great healer. After seven years Eustis is now working on new Telefon Tel Aviv material. And time is also proving the pair right. The sonic sculptures of Fahrenheit Fair Enough they spent "thousands of hours" carving have proven resilient. The music sounds all the more relevant in 2016 because the roadmap Eustis and Cooper desired then exists today. And because today everyone listens to what the South has to say.
"We just wanted to see if we could make it work," recalls Eustis. "We didn't know. Our aim was to make something we could be proud of."