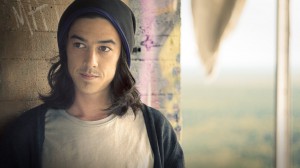 オーストラリアはアデレード出身で現在はベルリンをベースに活動している25歳の若きコンポーザー/プロヂューサー/エレクトロニック・ミュージシャン、Jian Kellet Liewによるソロ・プロジェクト。2011年にスウェーデンのダウンテンポ~エレクトロニカ系レーベル、Mareldから『Musk – EP』でデビュー。そして2012年にGhostly International所属のJakub AlexanderとAdam E. Huntが2004年に設立した、エレクトロニック・ミュージックをポジティヴに拡大解釈したデジタル・レーベル、Moodgadget(SHIGETOなども輩出した)からEP『PATIENCE』、『BLACKSTONE』のリリースを経て、ShlomoなどもリリースしているLAのビート・ミュージックの名門レーベル、Friends of Friendsから『THE WATER'S WAY』をリリースした。
Kyson is composer/producer/vocalist Jian Kellet Liew. The Adelaide-born, Berlin-based artist sees music as the platform through which he feels most comfortable – projecting his imagination through musical narratives; embracing and documenting the images and sounds of the world he's traveled – from the chaos and cacophony of bustling cities, to the peaceful, sun-drenched comfort of his own hometown.
Experimenting with analog synthesizers and obscure percussion instruments helped Kyson create the melancholic atmosphere of "The Waters Way", the title of his new LP and first with Friends of Friends Music, due out September 24th – a reflection of his time living in the long and harsh European winter.
Kyson weaves together layers of foggy synths and his own smeared, gauzy vocal take into a chilly, slowly shifting web of sound – (Pitchfork)
Kyson's tracks have an uplifting, self-reflective quality – (XlR8R)